Our President
The man with a vision
Suman Shah, founder and president of ACE Carbon Products, has an outstanding background in the carbon and graphite industry.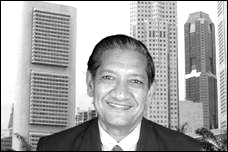 With over four decades of experience in manufacturing, marketing and sales Suman brings a unique perspective to the industry today.
Prior to the venture of Ace Carbon Products, he co-founded and served for 40 years as the president of Graphite and Carbon Corporation , a pioneer manufacturer of carbon products for textile industry.
Suman's vision is to develop solutions that address the ever-changing needs in the carbon and graphite industry.
His leadership set the stage for key initiatives that have taken the ACE Carbon Products to new avenues. Today, the company develops customized solutions to meet the challenges in textile, chemical and fertilizer industry, power generation plants, sugar, cement and paper mills.
Besides his immense professional success, Suman has pursued a number of philanthropic endeavors, like raising funds to help the families affected during the floods (2005) in Mumbai and establishing a scholarship fund that helps deserving students from minority community to realize their dreams for higher education. He has served as the honorary president for Khambhat Jain Upnagar Mandal (Mumbai) from 2002 to 2004. He currently serves as a Vice President and trustee for Khambhat Jain Pragati Foundation Trust.